Why we built an in-house Usability Lab
As a UX Researcher at monday.com, one of my team's top goals is to make sure our Product and Marketing departments are including our real users in their day-to-day activities. Speaking to our customers as we're building new features, developing new ideas and crafting messaging translates to a service that meets people's actual needs and addresses their real pain points.
Because our colleagues are busy and working in a fast-paced, hyper-growth environment, our UX Research team loves to come up with creative and varied ways to bring our users into the hearts and minds of our colleagues. This can be challenging, at times. Even though everyone at monday.com does speak with users regularly, we know that sometimes it can be difficult to get everyone to clear time in their calendars for these sessions with customers.
To remedy this challenge, we decided to create our own internal Usability Lab in our Tel Aviv office. With this new lab, our Product and Marketing teams can simply take a quick elevator ride to a floor upstairs and meet with real users, in-person.
If you're a Product Designer or UX Researcher looking to get everyone more focused on your customers' needs and expose what your actual audience experiences when using your services, building a lab might be just what you need.
I want to share why we decided to build an in-house lab, how it's impacted team collaboration, and how you can start something similar with your team.
First off, what's a usability lab?
The lab is a dedicated space in our office where any monday.com team can hear from real users.
For example: If a team is working on a new way for our users to log in to their monday.com accounts, the designers and developers who are working on this initiative will want to observe people interacting with a clickable prototype of the changed flow. This ensures that we launch a new login experience that is clear and intuitive.
Someone from our UX Research team invites users to our lab and asks each of them to complete the new login process. We observe these users as they perform the login and encourage them to share their thoughts throughout. At the end, we ask for their feedback on the whole experience.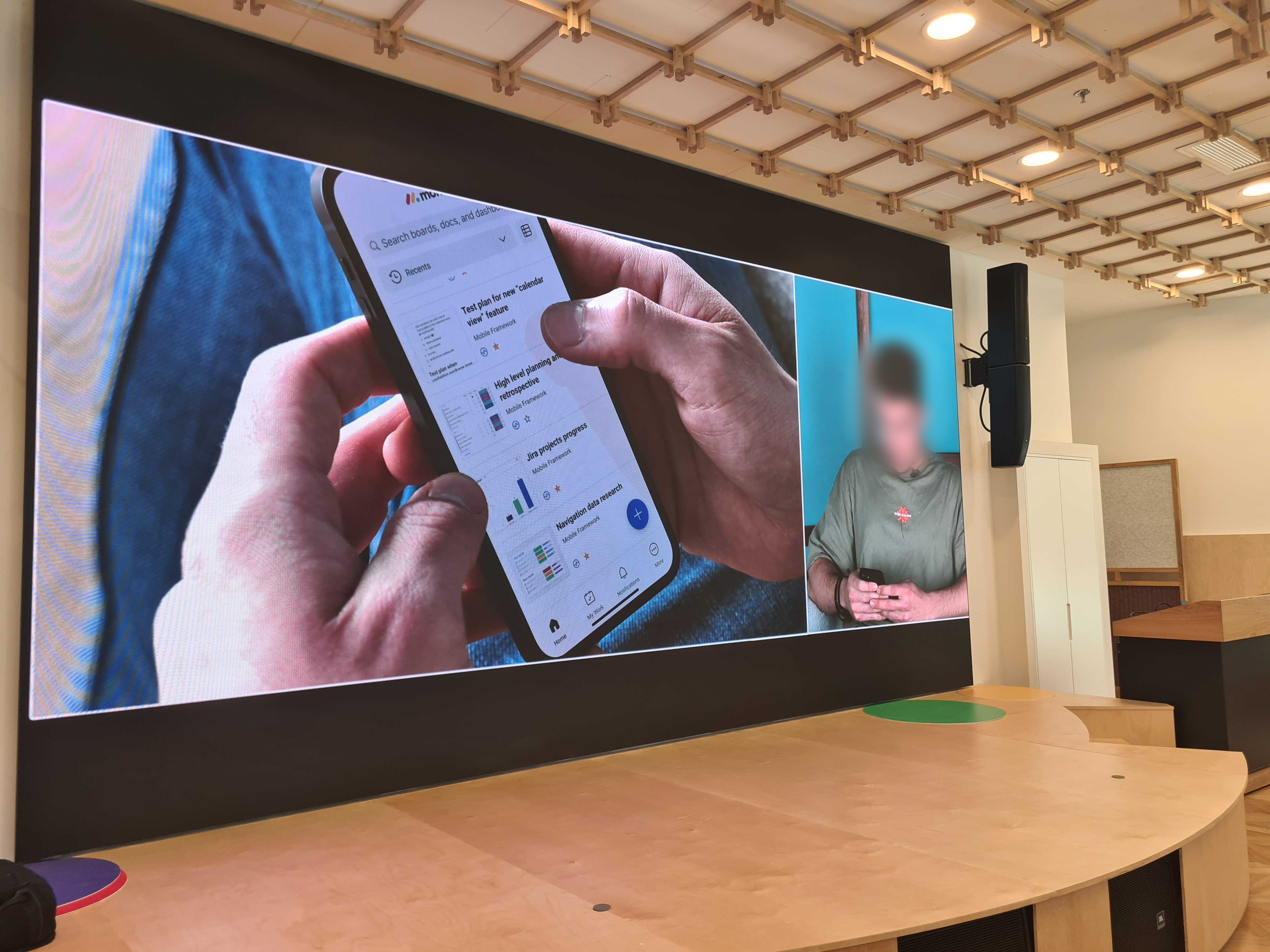 The session between the UX researcher and the user is broadcast to an adjoining room where our team of designers, developers, analysts and product managers observe.
After the user sessions are completed, the team discusses what occurred and how they can improve the execution of the feature:
Which areas of the login worked well for the user?
Where did the user encounter problems?
What actions can we take to improve the user experience?
Why a Usability Lab?
While the lab was something our UX Research & Design teams often talked about as a big dream, it gained new momentum once we returned to the office in May 2022. Following Covid lockdowns and a long period of working from home, the Usability Lab efforts felt more important than ever.
Like all other UX Research teams around the world, we spent 2+ years running fully remote research. Remote research can be amazing in some ways —it means we can easily access our users who live in faraway places, but it also has a few drawbacks:
Users' real context was missing: we missed visiting our customers in-person and seeing them in their actual work environments.
Zoom can feel "cold" and impersonal: it could take time for participants to get relaxed over Zoom, and open up to us. Remote sessions sometimes lacked a level of comfort we could more easily establish in-person.
Technical challenges: no-shows, connectivity issues and interrupting pets became commonplace.
But, one of our biggest challenges was a surprising one: we found that the level of engagement from our Product and Marketing teams began to decline. 
We would invite our non-researcher colleagues to these Zoom sessions and always share written recaps of our user sessions. After taking this approach for 2 years, enthusiasm and participation levels were not what we had hoped.
As a result, it became difficult to get our colleagues excited about UX research and the power it could bring to how teams made decisions.
This was a major bummer. Our small (yet mighty) UX Research team works closely with hundreds of product managers, designers, developers, analysts and marketing people. At monday.com, talking to and learning from our users is something that everyone can (and should) do. A big part of our work as researchers is creating processes to make it easy and comfortable for anyone in the company to approach users. Therefore it was essential that we create ceremonies that will encourage others to maintain this connection and be unintimidated to do research on their own.
So, we set out on a mission: We wanted to give our UX research ceremonies an energy boost. We aimed to create something that was exciting to attend and got the team buzzing about meeting users.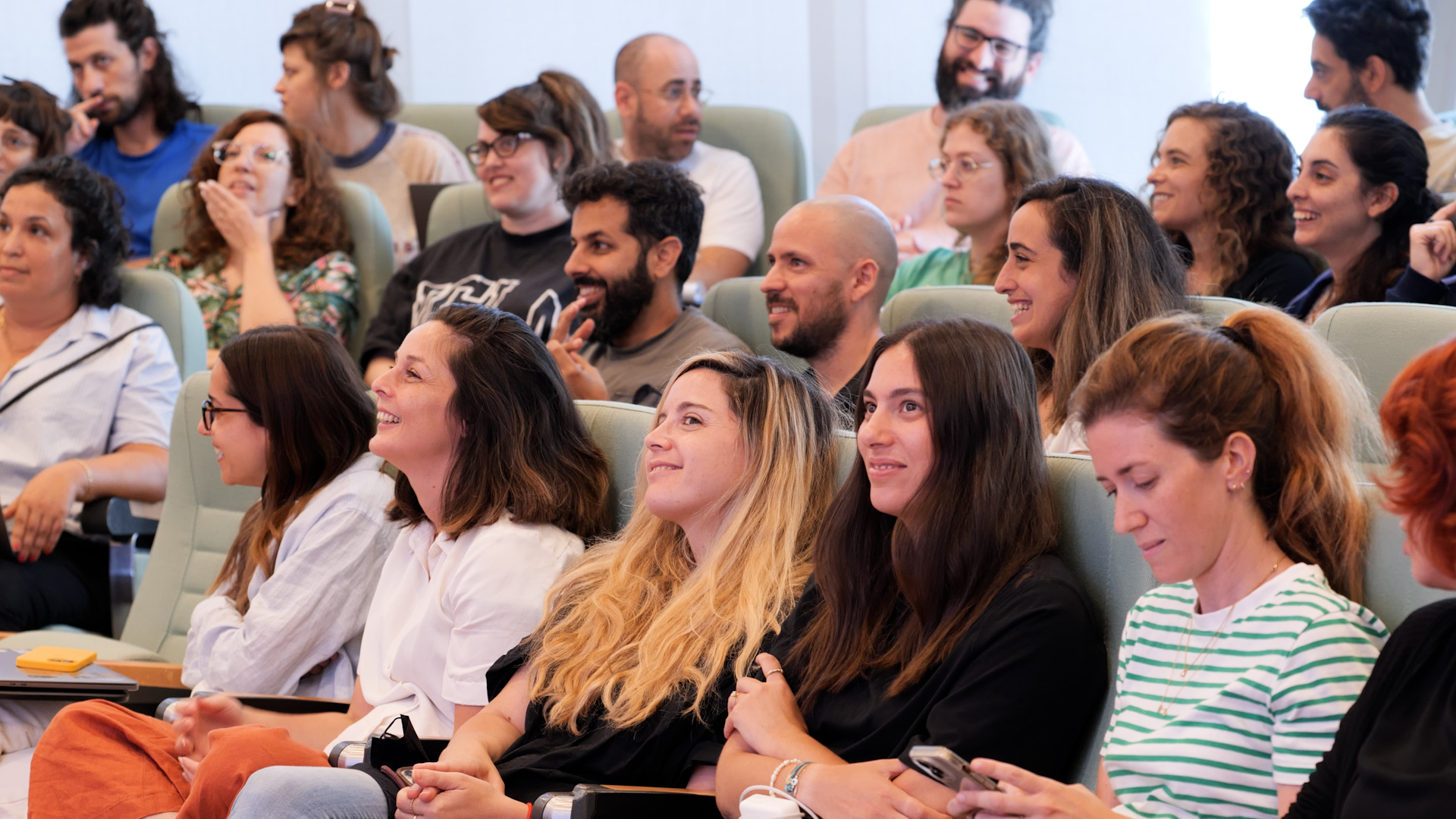 The Usability Lab as a catalyst for collaboration
Meeting our users in-person and having the entire team join together, via our Usability Lab, adds heightened energy and momentum. It makes the team feel like they're attending a big event. One product manager described our Usability Lab as "a movie premiere of our new feature".
When the team schedules time at the Usability Lab, we block off a few hours and gather everyone in our auditorium. The quality of the video is high, and it truly does feel cinematic.
We've seen some amazing results from the team discussions that follow the user sessions.
People offer new ideas that hadn't occurred to them before and often multiple teams get to connect to solve user problems they just observed. We've seen ongoing debates between designers and developers get settled after watching our users, because the lab creates alignment and understanding of what our customers need from us.
You too can create a (modified) Usability Lab
Establishing the Usability Lab did require involvement from our (outstanding) Operations team: They manage logistics, deal with the technicalities of broadcasting the user session, and assist participants with travel.
While this investment might not be a good fit for every team, the good news is that we've found that a much simpler event can achieve similar results.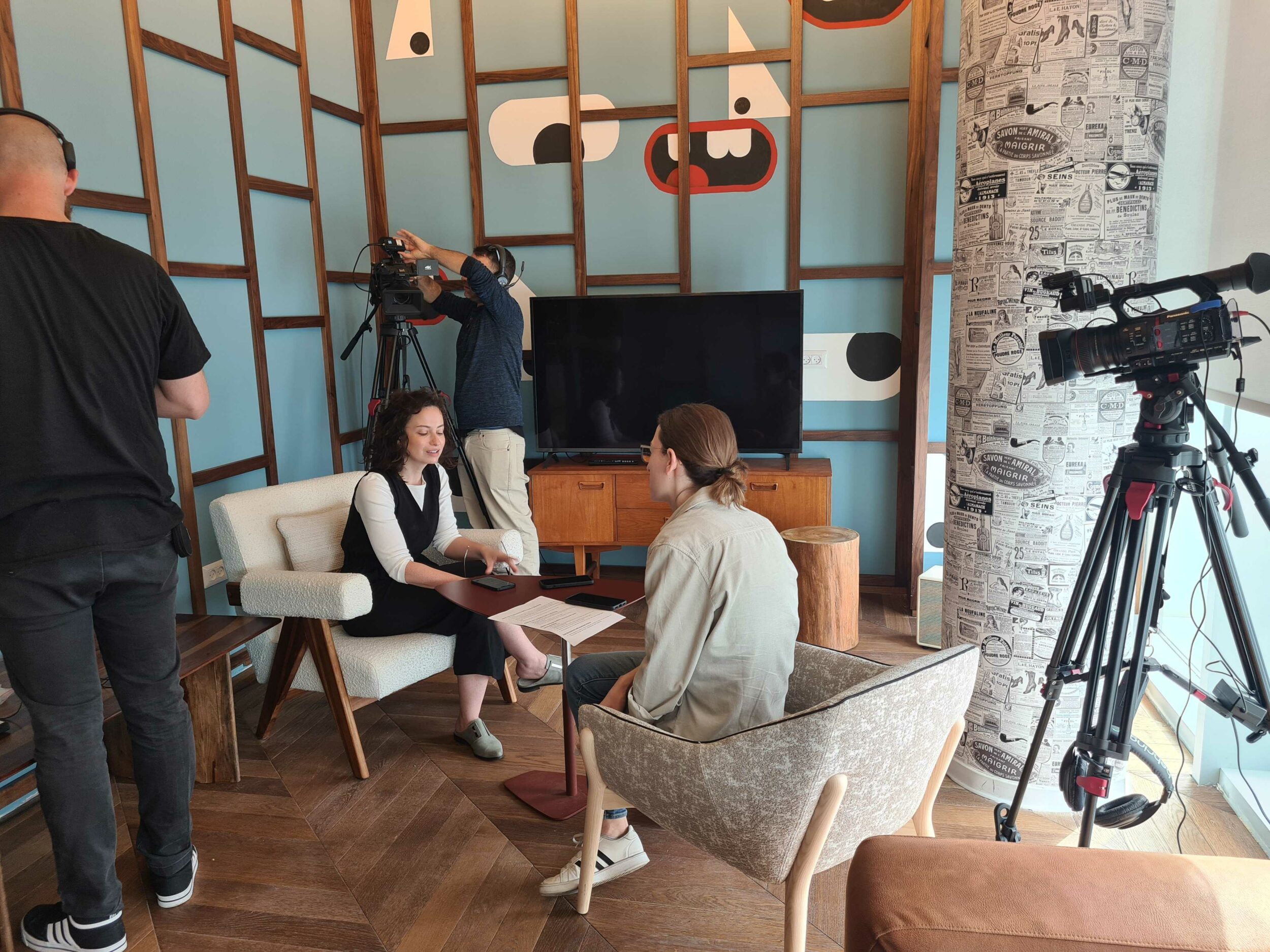 For this ceremony to be effective, the trick is this:
Gather your team together in-person to watch your users.
Our Usability Lab is effective because we have a fully present and engaged audience of product managers, developers, designers.
As a modified and easy version, we recommend having your team gather in a conference room, while someone speaks with a user over Zoom. Your whole team is there in person, but your user is remote.
This is a great way to get your team engaged and aligned. It means that the team is together, totally focused on the session, having their discussion face-to-face.
Another benefit of having the different teams participate is that they learn how to conduct their own conversations with users. The lab has been an effective way to model research best practices, like asking open questions and prompting with follow-ups. We've found that product managers and designers are more willing to run their own user research after they've seen a researcher run a few of these.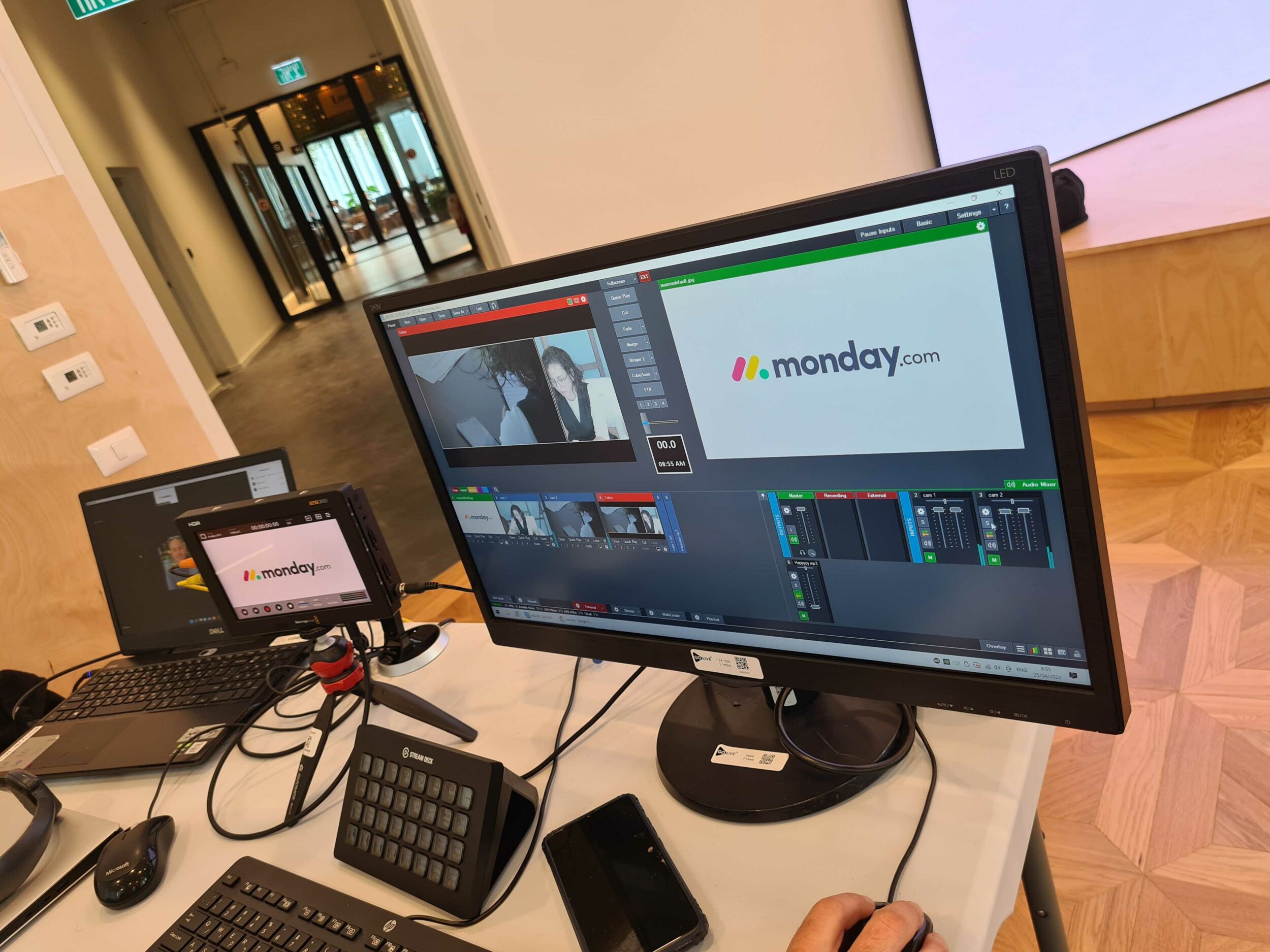 So, what are you waiting for?
Whether you take a more involved approach or kick off a simpler version, I highly recommend bringing various teams together to watch your users in real-time. Like we experienced, you'll see a new level of enthusiasm for speaking with users and create a setting for user-centered discussions.
—
Stay tuned for a follow-up to this post, where we'll go into more detail about how we set up our full Usability Lab.